STUDIO RENTAL
Every budding student or musician needs some place to practice, and hone valuable skills for
performances, presentations or a jam session.
MSM offers well-maintained and properly equipped facilities for rent, at reasonable rates.
Piano studios are equipped with upright pianos of varying brands.
The ABRSM Exam studio (with Yamaha UN5 piano) is available for booking during examination
periods only.
The Organ studio offers a 3-manual Allen organ. Limited slots are available.
1. The Dance studio which can also be used as a small recital venue, is equipped with a KAWAI grand piano, as well as full length mirrors. The studio has a 60 seat capacity.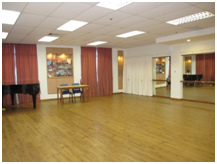 2. The Lecture Room is equipped with a Yamaha grand piano. The room has a seating capacity of 20.
Please click here for the terms & conditions of hiring our facilities.
For enquiries about hiring fees and availability please contact our friendly administrative staff.
The booking is only confirmed after full payment has been made.