SKILLS TRAINING WORKSHOPS
Skills training workshops are topical classes that cover an in-depth study of a specialised skill relating to worship music. This includes instrumental skills (e.g. electric guitar primer, classical 'conversion' primer for keyboard, hymn & service playing for organ or piano, guitar / ukulele, band dynamics, etc.) and music technology skills (e.g. music software for multi-track implementation, gear automation, etc.).
Depending on the skill concerned, workshops are either offered via weekly individual / group classes at MSM, or on a partnership basis with individual church's ministries.
Sounds like something your church needs? Contact us today!
Latest upcoming skills training workshop for Chinese-speaking church musicians – click here for more info.
==================
Here are some examples of the past skills training workshops we have done:
1. BAND DYNAMICS
Over three sessions, discover the Worship Ministry Process and how it can give your worship team a handle on the week-to-week operations involved in your ministry and to succeed in them. Click here for more information.
2. HYMN & SERVICE PLAYING (ORGAN)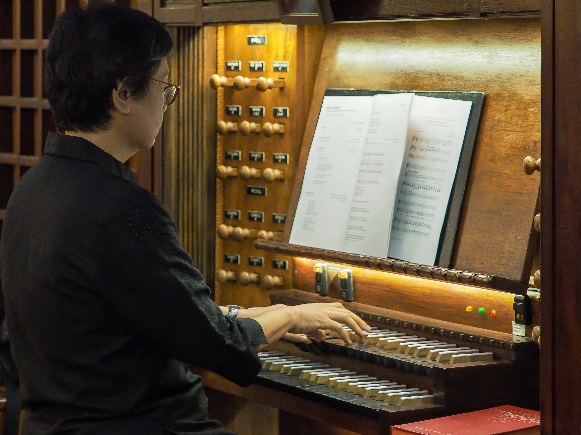 Because the church organist requires varying levels of attention, this module may be crafted to suit the church organist's specific requests. Topics include hymn-playing (SATB), the use of pedals, registration, service music, with at least one session in the candidate's own church.
Course duration: ranges from 4 to 11 weeks, with class lasting 45 minutes. Group or Individual instruction.
Ages: 14 & above.
3. ACOUSTIC GUITAR / UKULELE
Acoustic Guitar
Learning about chords, strumming, plucking, note reading and ear training are essentials in guitar playing. Your instructor will tailor the lessons to your musical interests while covering the basics of guitar technique. Students must bring their own guitar.
Ukulele
Learning basic techniques on playing the ukulele. Participants will learn:
Types of Ukulele – Tuning
Chords: Chord progression and Song-form examples
Praise and worship songs
Creative use of Ukulele in worship setting
Students must bring their own ukulele.
There are 11 individual lessons per term, according to the School Year Calendar.
The length of each lesson typically ranges from 30-60 minutes per week, depending on level:
| | |
| --- | --- |
| Group of two | 45 mins per session |
| Group of three – four | 60 mins per session |
| Beginner 4-6 years old | 30 mins per session |
| Level 1 | 45 mins per session |
| Level 2 | 45 mins per session |
| Level 3 | 60 mins per session |
Performance Labs, annual school concerts and masterclasses offer added opportunities for performance and coaching.
4. ELECTRIC GUITAR PRIMER 
We can demonstrate how to make the jump from playing acoustic guitar to electric guitar with introductory lead concepts, as well as provide hands-on experience with the latest technology to achieve modern worship tones.
5. WORSHIP FROM HOME / PRODUCTION 101
In a season where gathering physically for corporate worship is not possible, we have produced a series of webinars to help equip worship teams with the skills to create worship videos that enable their congregations to worship from home.
"Worship From Home" webinar (held on 11 May 2020 – click here for a recording)
"Production 101: Part 1 – Audio Editing for Beginners" (held on 21 May 2020 – click here for a recording)
"Production 101: Part 2 – Video Editing for Beginners" (held on 22 May 2020 – click here for a recording)
6.  Modernising a Hymn
Arranging hymns can be a challenge, especially if we want them to sound modern and have the whole worship team involved in playing the hymn (rather than just relegating it to the pianist)! In this webinar, our instructor will bring you through the process of arranging hymns, from conceptualization to execution.
[Held on 11 June 2020 – click here for a recording]
7.  Audio Editing in GarageBand
Are you an Apple user that needs to put together audio recordings for your church's worship services? Come and discover the digital audio workstation that comes free with every Apple device – GarageBand! In this session, our guest speaker brings us through the GarageBand interface, the technical terms found in the software, and demonstrate the mixing capabilities of GarageBand as well as share some mixing techniques.
[Held on 18 June 2020 – click here for a recording]